Anderson and Associates has extensive experience in a broad range of public projects that included public engagement or community outreach.  A&A prepares the outreach plan, coordinates the events, prepares the graphics and outreach materials, contacts database of stakeholders and invitees, creates or maintain current data on website and social media,  notifies the media, prepares press kits, secures meeting sites, caterers and coordinate agendas, speakers and the event activities.  A&A has a database of over 5,000 leaders, members, influencers, stakeholders, and advocates in the grass-roots and faith based communities and has a proven track record in delivering a clear focused message.
Dr. Phillips Center for the Performing Arts
Dr. Phillips Center for the Performing Arts, Orlando, FL.  Planned, coordinated and conducted community outreach and information forums to the public and business sectors regarding inclusion in the design and construction of the project.  Conducted 15 informative events and meetings where meetings were touted as the "the most effective outreach meetings ever where people actually got to know each other."
Creative Village
Creative Village, Orlando, FL. Planned and coordinated outreach to high-tech and low-tech stakeholders.   A&A conducted outreach to the downtown community of leaders, as well as grass-roots, faith bases and non-profit leaders and organizations to  frequent updates on the development of the Creative Village project a 68 acre development project in Parramore, downtown Orlando.  Anderson and Associates coordinated outreach meeting by engaging homeowners, renters, business owners, students, non-profit organizations and city officials in providing updates and receiving input.  Additionally, Anderson secured support letters for the developer's grant applications and facilitated improvements, grants, jobs, gifts, etc. to the Parramore community.
Parramore Comprehensive Neighborhood Plan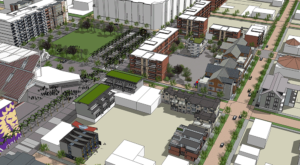 A&A was consulted by a urban planner to conduct community outreach The general goals of the Parramore Comprehensive Neighborhood Plan was to improve public health, increase mobility options and connectivity, revitalize the physical appearance, and increase opportunities for neighborhood-serving businesses within the historic Parramore Community.  A&A was tasked with ensuring a thorough collaboration and full engagement of the community.  The activities included kick off meetings, community fair, neighborhood meetings, faith community meetings, youth and social service provider meetings, etc.  A&A prepared flyers, mailings, door to door campaigns, social media and website announcements, meeting summaries, coordinated the event locations, caterers, logistics, etc. The meetings were well attended and resulted in an approved neighborhood plan that met all of the local, regional, state and federal requirements.
Anderson and Associates, P.A. has a code of moral ethics; we want our clients to know where we stand and to be able to count on us to be consistent. Anderson and Associates, P.A. believes in doing the right thing, because it is good for our company, our employees and our community.
Anderson and Associates, P.A. strives to level the playing field by being a conduit for working together in the true spirit of "together we stand, divided we fall;" we are advocates for results that enhance the community in being inclusive and finding solutions together.
Anderson and Associates, P.A. strives for quality by creating systems of checks and balances and by motivating our staff to be proud of producing quality and accurate results.  We pride ourselves on working hard and producing a quality product.  We strive to serve the community with excellence.
Anderson and Associates, P.A. works to improve the families of those we serve; every assignment is about improving the lives of others and our staff; we aim to touch the family unit and contribute to strengthening the fabric of society.  We want to leave the community a better place for our children.
We are givers of our time, resources, skills and aim to produce above and beyond our clients' expectations.  We strive to deliver what we contracted to deliver.  We strive to be a beacon for the community.